An S-bend to blind is a front spin with a backside 180, landing blind. It is my all-time favourite because it is such a nice flowing trick as you continue your rotation in the same direction. Landing it feels great every time. It also brings many more opportunities to try new things like an S-bend pass, S-bend pass 3, and Double S-bend to blind!
Requirements: You need first to be able to do a s-bend and of course riding blind.
1. Get some speed
Make sure you have a good speed and your kite at 45 dgrees. Go downwind slightly for a split second and then edge upwind hard to create a powerful pop.
2. Pop into a railey
Pop into a railey, and start your front rotation. To do a proper s-bend you start with a railey before you go into the front rotation. During the entire trick you are stretched out and horizontal.
3. Spot the water
Spot the water. By spotting the water you know when your rotation is finished and it's time to go for the pass.
4. Remove the back hand
Take your back hand off and rotate away from the bar. You are still rotating in the same direction, which gives it a smooth and flowing feel. The key to rotating enough is to look over your shoulder. Wherever your head is going, the rest of your body will follow.
5. Land to blind
It's time to land blind. Land as downwind as you possibly can to avoid catching a back edge. Bend your knees to absorb the landing. You might also want to lean forward a bit so that you want fall back.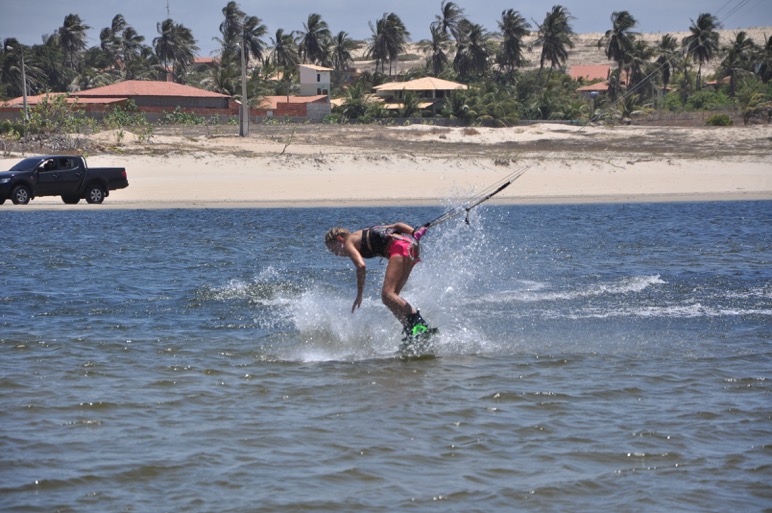 6. Pass the bar
Once you land you can immediately pass the bar, which means you'll be toeside.
Watch the entire video below and good luck on your S-Bend to Blind!
Follow Annabel on Facebook, Instagram and on her Official Page.
Published on: 4th May 2016
---