Canadian Marie-Eve Mayrand is nursing her sore muscles and fighting jetlag after winning gold in the women's snowboard category at the Red Bull Ragnarok 2016 snow-kite race in Norway.
We caught up with her as she tries to take in the privilege of recording a win at what many consider the world's toughest snow-kite competition.
WHAT MOTIVATED YOU TO COMPETE IN THE EVENT?
I love kiting — water and snow. It's my passion.
Seven years ago, my husband — boyfriend at the time — bought me a trainer kite. After playing with it all summer, I decided to take a snow-kiting class as I was a snowboarder and I thought it was a marvellous combination. It took me a long time to be able to ride properly and safely but I was hooked from day one.
I participate in all local events (snow and water) and do as many kite trips I can. I had the chance to kite in Turks and Caicos, Philippines, Vietnam, Brazil, USA, Honduras, Cuba, Mexico and Norway.
I became aware of Ragnarok about four years ago when I watched YouTube videos of the event. I thought it was the coolest and craziest thing ever. I couldn't imagine having to deal with 350 kites in the air for a mass start without having a panic attack.
When I got the opportunity to do the race this year (thanks to my friends Melissa Cronin and Camilla Ringvold), I immediately jumped at it.
IS THIS YOUR FIRST TIME AT RAGNAROK?
Yes. It was my first time at Ragnarok and my first time in Norway! I loved it.
I participated in some local races in Canada and at the Red Bull kite farm in Saskatchewan last year. At that time, I wasn't ready for Ragnarok.
But even though I didn't have racing experience, I finished fourth at the Red Bull Kite Farm in Canada and appeared in the Kitesurfer Magazine. That's when I saw the potential.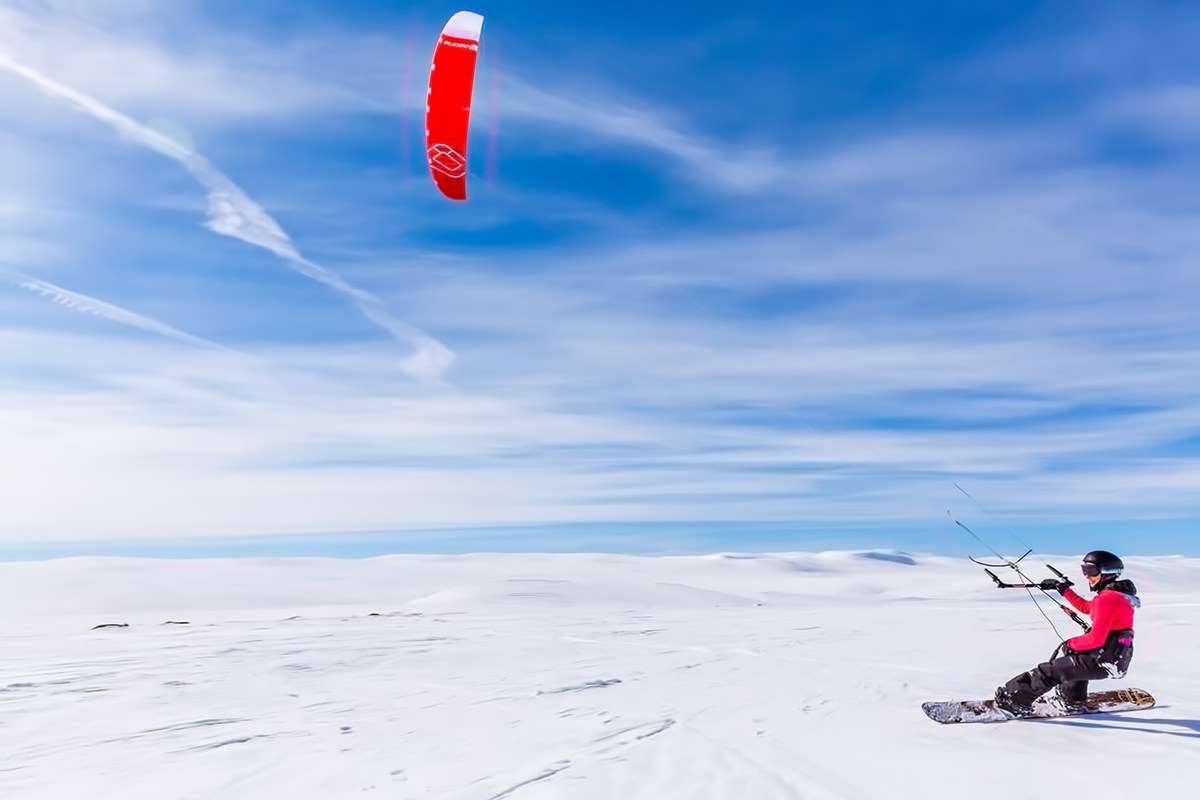 WHAT WAS THE DAY OF THE RACE LIKE?
Surprisingly I wasn't stressed or anxious about the mass start, the terrain, the wind, the cold or the conditions. I was there to have fun, meet other riders, and be part of a great experience.
I knew there were many other women who were going to fight for a spot on the podium and I didn't believe I had a chance.
That being said, I was physically and mentally ready. I ride locally in the beautiful Canadian Rocky Mountains — it's an excellent playground and offers all possible conditions to be ready for Norway.
I snow-kited a lot all winter and experienced terrain, powder snow, as well as gusty conditions. My friends and husband pushed me and helped me become a better snow-kiter.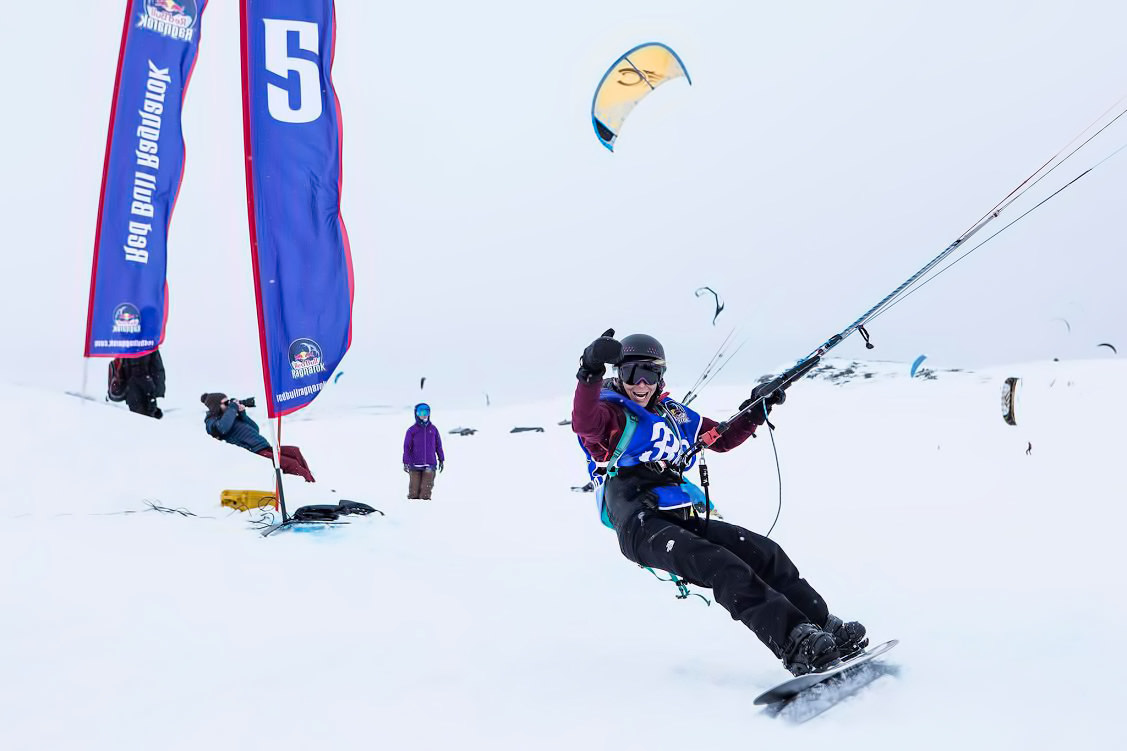 CAN YOU DESCRIBE THE RACE ITSELF?
The first lap took almost three hours. I started behind a lot of people and was downwind. It took me 15 minutes just to cross the start line. I made navigational errors and even got lost. At one point, I was in such a bad spot that I just packed everything and ran up a big hill in deep snow to improve my position. I ended the lap in eighth place in my category.
The second lap was near perfect. I went where the wind was, avoided slow kiters, did not make mistakes and moved up to second place. I clocked 54 minutes — the fastest time by any woman on a snowboard in the 2016 edition of Ragnarok.
The third lap was a good one at 62 minutes, but there was no time for a fourth or fifth lap. Also the wind had died out. Many people were still trying to ride but without much success. The last gate was blocked by a couple of kiters who were trying to keep their kites up. A few hundred meters from the end, I just threw my lines and board on the ground and ran as fast as I could to cross the finish line.
I didn't know that I was the winner. Apparently Red Bull was trying to interview me, but I was nowhere to be found! I was packing up my gear and celebrating my Canadian friends' achievements, Peter Martel and Josh Barker among them.
It felt awesome to take the top spot on the podium on that day, among last year's winners and pro-riders that I admire and met at Ragnarok!
HOW WAS THE EXPERIENCE?
Overall it was fantastic. Norway and Haugastol is world class for snow-kiting and I would recommend everyone go there. In fact, I hope to return in 2017 as it was a phenomenal experience and offers amazing terrain.
I was lucky this year to share the experience with some wonderful ladies, good friends, and my Canadian fellows.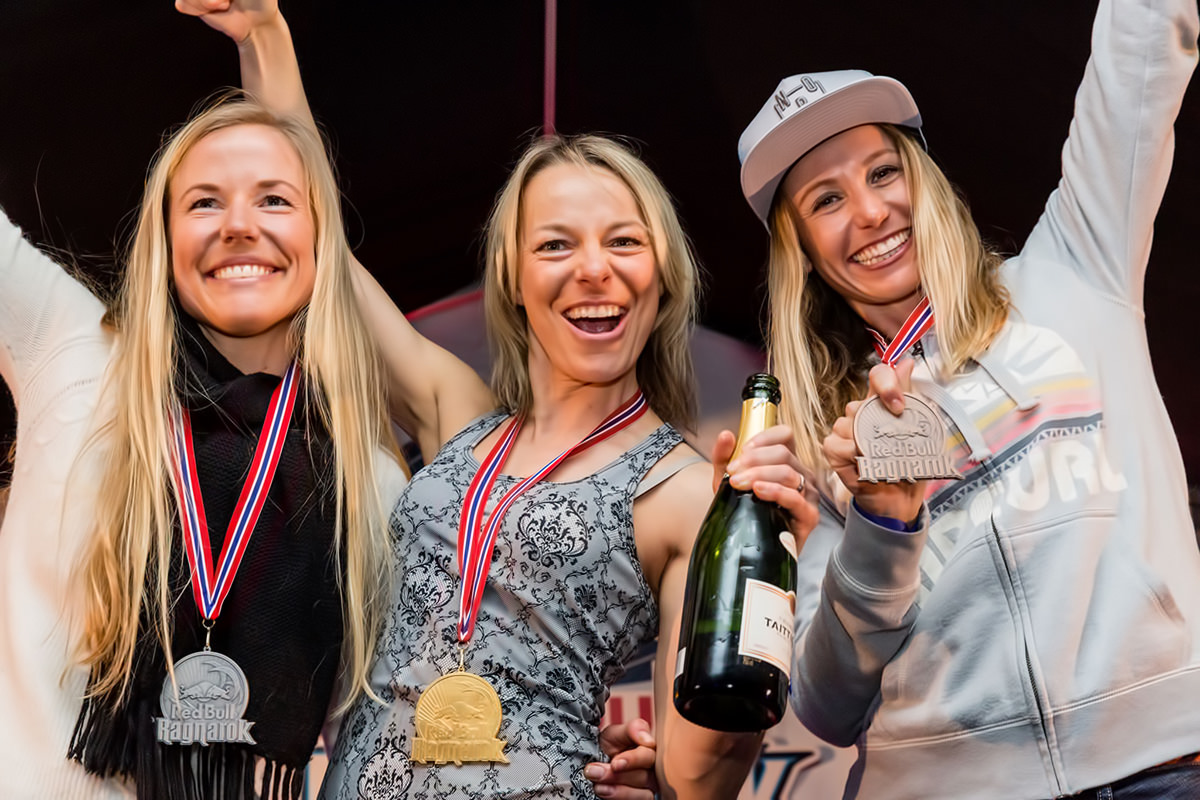 WHAT IS YOUR ADVICE FOR WANNABE SNOW-KITERS?
Snow-kiting is so much fun, especially on a nice sunny day with powder snow.
If you already have water gear, it's really easy to get into the sport. It requires only skis or a snowboard, a good helmet; and if gets too cold, hand warmers and hot chocolate are a must.
There are plenty of incredible places in the world to practice the sport including Norway. However, my heart is at home, where I can enjoy the sport with my teammates and husband.
You can reach Marie-Eve via her Facebook, Instagram @Marieevemayrand, Twitter @memay2 or at [email protected].
Published on: 13th April 2016
---